Handle your kitchen renovation!
Your new custom-designed kitchen or kitchen makeover wouldn't be complete without a set of stylish cabinet handles.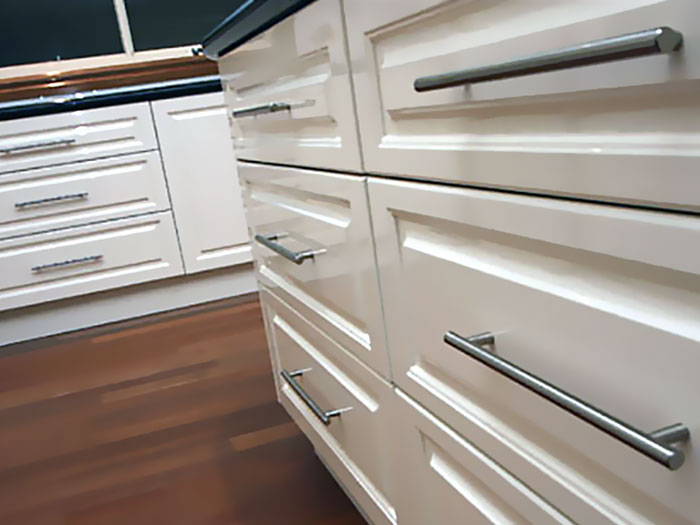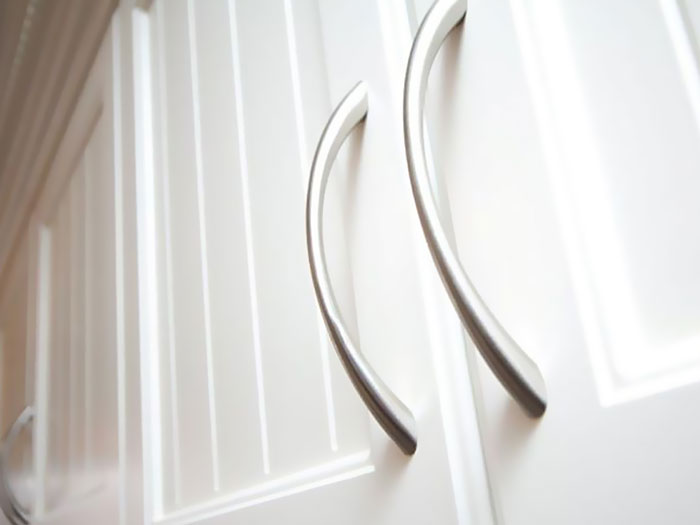 Grandview Kitchens has a range of quality kitchen handles and knobs in a variety of shapes, sizes and colours to suit any kitchen décor, from traditional to modern. We offer a range of outstanding architectural cabinet ware. These cabinet handle products have been chosen to compliment Australia's fine homes.
A new set of cabinet handles can up your kitchen's appeal in a jiffy. So, if you are someone looking for a quick pick-me-up design to refresh the look of your home kitchen, opt for new cabinet hardware from Grandview Kitchens in Melbourne. We are a class apart when it comes to kitchen designing, building and installation,
Just changing the handles of your kitchen cupboard will give it a refreshing look, straight out of the pages of a catalogue. Grandview Kitchens offers a unique range of superior quality, kitchen cupboard handles and knobs in myriad sizes, colours and shapes. These can go well with any kind of kitchen décor, be it a classy and suave to traditional. We offer spectacular range of cabinet hardware to compliment the tastes and budgets of every fine Australian home in Melbourne.
Our wide ranges of kitchen cupboard handles are sourced from the best of manufacturers in Australia. Find the right kitchen cupboard handles and sift through plethora of choices to get the right kind of cabinet hardware for your kitchen. Choose from a variety of kitchen cupboard handles from traditional, modern, and the classic French provincial designs. We house the most trendy and latest innovations in cabinet hardware, sourcing it exclusively from Europe and Australia. Choose from brushed nickel to bright chrome, polished brass, zinc alloy, aluminium, stainless steel platinum and pewter.
Quality suppliers
At our kitchen showroom we have a range of display cabinet handles from a variety of manufacturers:
Titus Tekform
Kethy
Haefele
Furnware Dorset
Also, if you have seen the perfect cabinet handles from another supplier, we can source them and install them in your new kitchen. Don't run around town sourcing the perfect cabinet handles – Grandview Kitchens can take the hassle out of kitchen hardware.
Types of handles
The style of your cabinet handles will depend on the overall style of your kitchen. At Grandview Kitchens, you can choose from a variety of cabinet handles and door knobs styles, including:
Traditional
Classic French provincial
Modern
We have the latest in handle design, featuring the current styles from Australia and Europe.
We here at Grandview Kitchens always ensure that your kitchen gets the best of design elements offered by us. To take advantage of our services and experience. Contact us to arrange an appointment or head to our showroom at 32-36 Burgess rd Bayswater North. You can also head to our Gallery for some great ideas..
Call us today to make your cabinet hardware requirements for Melbourne kitchens a reality.
Melbourne's first choice for custom kitchens
Grandview Kitchens is Melbourne's first choice for custom kitchens, new kitchens, bathrooms and cabinet installations. Make your dream home a reality!