Your Dream Bathroom Starts Here!
Bespoke Bathrooms | Custom Bathroom Design | Bathroom Renovations
Bathroom Manufacturers | Bathroom Installation
Whether you want to create a couple's retreat, a solo spa sanctuary or a contemporary, workable space for a busy family, Grandview Bathrooms can bring your dream bathroom to life.
Being a leading bathroom renovation company, we can turn your bathroom into a location in your home where you can simply get away from the day-to-day stresses of life and relax. Our clients choose us because we perform the highest quality bathroom renovations in Melbourne.
Our team of skilled designers and highly experienced tradesmen have created many quality bathrooms and ensuites over the last 25 years. The degree of quality in our craftsmanship is unmatched, and only surpassed by our ability to turn your renovation vision into a reality and our exceptional customer service.
Whether you just have a small ensuite that needs freshening up, or you have a large home with multiple bathrooms, get in touch with Grandview Bathrooms!
Bathroom Renovations from Melbourne's Top Designers and Builders
A Bathroom Design made easy!
Your designer bathroom should be all you imagined it to be – functional, beautiful and unique.
By designing your bathroom with the company that will also build it, you can ensure a perfect bathroom at the best price.
At Grandview Bathrooms our designers listen to you. Your vision for your bathroom is essential to the design process.
Our experienced designers will brainstorm with you, putting together ideas for your dream bathroom & they'll transform your concepts into a working design, ready for building.
Bathroom Design & Building
Here at Grandview Bathrooms we pride ourselves on the quality of the bathrooms we build and have been since 1975.
Call us, the one-stop solution for your bathroom renovation anywhere in Melbourne. We will assist you in designing a perfect bathroom space and can also arrange elevations and 3D drawings, and then see the project through to completion.
We will do everything, arranging the skilled tradesmen, from electricians and plumbers to plasterers and tilers, saving you the pain and hassle of arranging them yourself.
The time taken for a bathroom from design to completion is generally about 6-10 weeks, depending on materials. Our bathrooms exhibit quality and durability and will last you decades.
For ideas on designs why not check out our GALLERY PAGE or CONTACT US and we can arrange an obligation free design consultation with one of our experienced designers.
WHY CHOOSE US?
You will deal directly with the people who design and build your bathroom – we guarantee consistency and a personal touch. With a combined 60 year's experience and a determined focus on customer satisfaction, you can rely on us for your next project.
• Superior Quality and Craftsmanship • Quality and Value to the Projects We Deliver • Highest Standards in Cost Control
• On Time and on Budget • Real Focus on Customer Satisfaction • Total Project Management
SAVE TIME, SAVE SANITY
Your time is important. We are your one-stop-shop for the whole bathroom process. You get custom design, build and installation from one trusted supplier. Getting your dream bathroom has never been easier.
SAVE MONEY
We take the middlemen out of the equation. By dealing with one company, you cut costs and save time. So you'll have more money to spend on what matters – getting the best possible bathroom.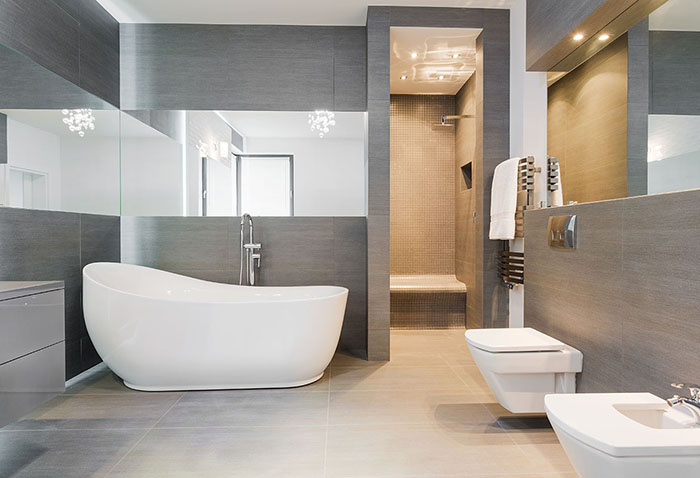 GREAT CHOICES, GREAT RANGE
Want to see what sort of bathroom Grandview Kitchens & Bathrooms could create for you? Check out our Gallery of finished Bathrooms.  Your bathroom, your design – we're just here to help.
OUR 10 YEAR SATISFACTION WARRANTY
Let our 40+ years of experience designing and building kitchens & bathrooms work for you. We aim for 100% customer satisfaction every time. And did we mention you'll get a 10-year warranty on all work. You deal directly with the people who design and build your bathroom!
WHAT ARE YOU WAITING FOR?
Making your dream bathroom a reality is easy with Grandview Kitchens & Bathrooms. Contact us and we can arrange an obligation free consultation at our showroom or in your home.
COME AND VISIT OUR SHOWROOM
We are open 10.00am – 5.00pm, 7 days a week… so to discuss your bathroom dreams and to help turn them into a reality… contact us today. Showroom: 32-36 Burgess Rd, Bayswater North
Bathrooms That Have Melbourne Talking!
Custom-made Bathrooms
Grandview Kitchens and Bathrooms is Melbourne's first choice for custom-made bathrooms and renovations.
Make your dream home a reality!