Custom modern kitchen design
Is your current kitchen looking tired and worn? Do you want something modern and sophisticated that expresses your personality? A kitchen can be a work of art that brings joy to you whenever you step inside – just ask Grandview Kitchens.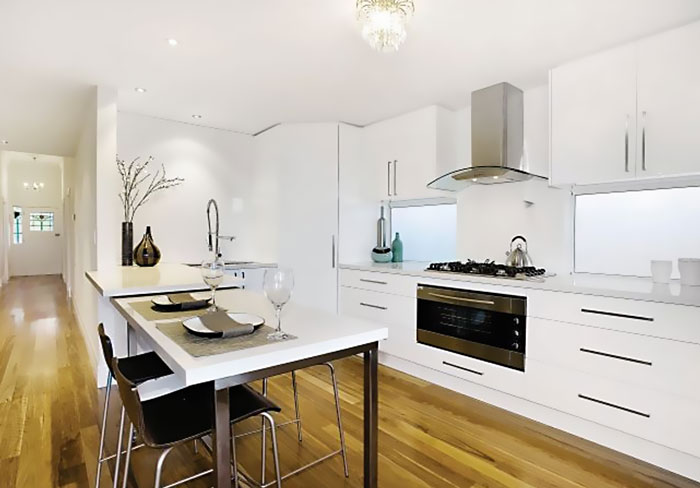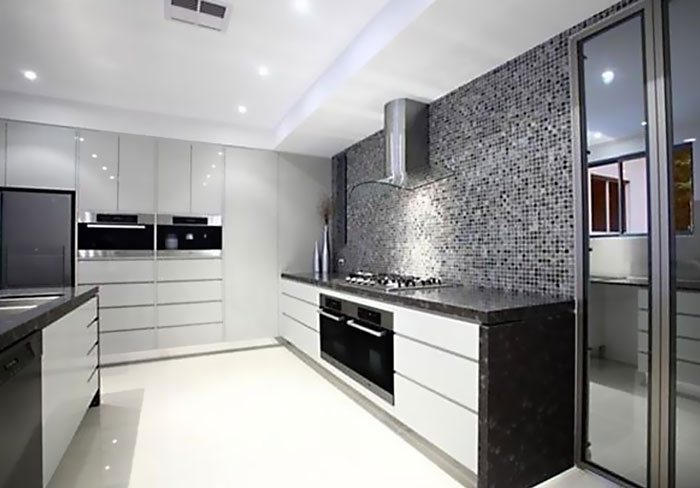 We can give you a unique, custom, modern kitchen design,  manufacture and installation.
Your kitchen is the centre of your home and should express your taste. A chic, modern kitchen design will lift the décor in your whole home. Visitors will be lost for words!
Experts in modern kitchen design
At Grandview Kitchens, the only fashion we care about is in kitchens. We keep up with the latest worldwide and Australian trends and can translate them and your requirements into stunning modern kitchens. Melbourne buyers, your first choice for modern style and cutting-edge functionality is here.
Our modern kitchen design is chic, using the latest in shapes and materials. Clean edges and modern textures dominate our latest designs.
Modern kitchen designs reflect our cosmopolitan, multicultural lives. Your modern kitchen design can incorporate elements of:
European – Modern kitchen design with a European edge features clean lines and beautiful colours. Go for bold colours to add a touch personality.
Minimalistic – This approach gives you a clean, functional and sophisticated look. Minimalistic doesn't mean stark – warm hues and soft lighting can make your kitchen welcoming.
Cutting-edge – Make your kitchen a work of art! Our cutting-edge modern kitchen designs use dramatic colours, bold design elements and quality materials. Talk to your Grandview Kitchens designer about making a statement with your modern kitchen.
Ultimately, it's all up to you! Our designers will help you express your personality in a dream modern kitchen design.
Get some ideas to fuel your modern kitchen design planning at our Kitchen Gallery.
Modern style and function
With Grandview Kitchens, modern kitchen design and functionality go hand-in-hand. We ensure that your modern kitchen design suits your life, not the other way around. When it comes to modern kitchens, Melbourne customers deserve a kitchen renovation service that listens to their needs.
Want the ease and chic appearance of a trendy magnetic induction cooktop? Looking for the finest, streak-free stainless steel? We have a large range of quality modern European and Australia options to suit your own aesthetic preferences and functional needs
A modern kitchen design suits a modern lifestyle. Count on Grandview Kitchens to meet your needs.
Modern kitchens, today
Make your kitchen a stunning and useful space, whatever your budget and lifestyle. For cost-effective modern kitchens, Melbourne's Grandview Kitchens offer market-leading expertise.
Why have an ordinary kitchen when, with Grandview Kitchens, your modern kitchen design will impress your dinner guests?  Contact us to talk about starting your contemporary kitchen today.
Custom-made Kitchens
Grandview Kitchens is Melbourne's first choice for custom-made cabinetry and fully Project Managed Installation.
Make your dream home a reality!
Kitchens Melbourne | Kitchen Designers Melbourne| Kitchen Manufacturers Melbourne | Kitchen Showroom Melbourne | Kitchen Renovations Melbourne | Custom Made Kitchens Melbourne