Kitchen design and installation with less stress
Making your dream kitchen design into reality is simpler and less stressful with Grandview Kitchens. We work to understand your needs, and to translate them into a unique design and a finished product you'll love.
From kitchen design to reality – all in one place
Often, companies who provide a kitchen design may not manufacture or install their products. You could end up chasing several companies, from designers to manufacturers installers and trades people.
This can be difficult, frustrating, time-consuming and expensive. Why complicate your life even more? At Grandview Kitchens, we simplify the process. You deal with one company, start to finish.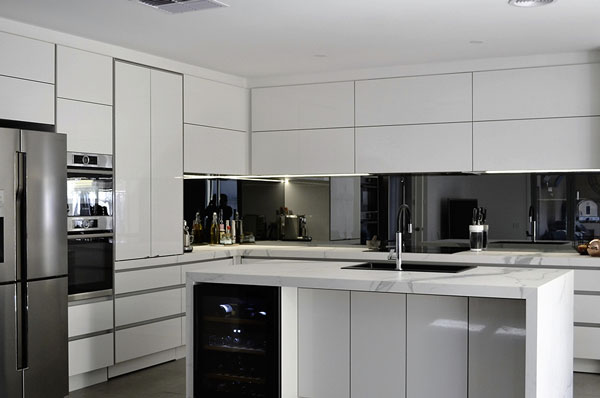 We do:
Kitchen design – just make an appointment to discuss your dream kitchen design with our experienced designers and we'll make your perfect kitchen design happen. You can see your kitchen before it's built with our realistic 3D design drawings.
Manufacturing and cabinet making – we manufacture your kitchen at our own factory according to your exact specifications. You can even visit our factory to see its progress from idea to reality. All of our workmanship has a 10 year warranty.
Installation – We expertly install the kitchen into your home. This includes arranging skilled trades people like plumbers, tilers, plasterers and electricians. We get the best people for the right job, saving you time and hassle.
Although kitchens are our specialty, we also design, manufacture and install other products including wardrobes, laundry cupboards, wall units, bars and more. Contact us and we'll meet your needs.
"The kitchen you've dreamed of"
When designs are sent to external manufacturers, the design ideas can get lost in translation, or simply just altered to suit the manufacturer.
By keeping kitchen design and construction under one roof, Grandview Kitchens ensures your final result matches with your dream. We keep you informed of progress, and you can even come to our workshop and see the progress of your Custom Built Kitchen.
"Take the first step towards your perfect kitchen today."
The kitchen looks fantastic and I have been enjoying working with Grandview Kitchens (and I will be back for my next one).
The whole team at Grandview have been amazing from start to finish. It has been a very easy process and we have been informed at every stage.
A huge thankyou to Irene, Darren and everyone at Grandview. I love my Kitchen!
Fantastic service from Grandview kitchens, no hassle from start to finish.. Would recommend ..
Very happy with my kitchen. Great service, great product!
Excellent communication throughout the project. Fantastic tradespeople. From beginning to the completion & handover we did not experience any problems. A very professional company, we would happily recommend Grandview Kitchens to all.
A huge thank you to you all for my kitchen. I love it! You have all been wonderful, professional and friendly. All the trade people have been fantastic and a pleasure to work with, I have already recommended you to two friends planning kitchens!
Custom-made Kitchens
Grandview Kitchens is Melbourne's first choice for custom-made cabinetry and fully Project Managed Installation.
Make your dream home a reality!
Kitchens Melbourne | Kitchen Designers Melbourne| Kitchen Manufacturers Melbourne | Kitchen Showroom Melbourne | Kitchen Renovations Melbourne | Custom Made Kitchens Melbourne