More Than Just Kitchens
At Grandview Kitchens, we don't just manufacture kitchens, we offer all types of renovations. We specialise in a full range of renovation options including Kitchen & Bathroom Cabinetry as well as laundries, wardrobes and butler's pantries.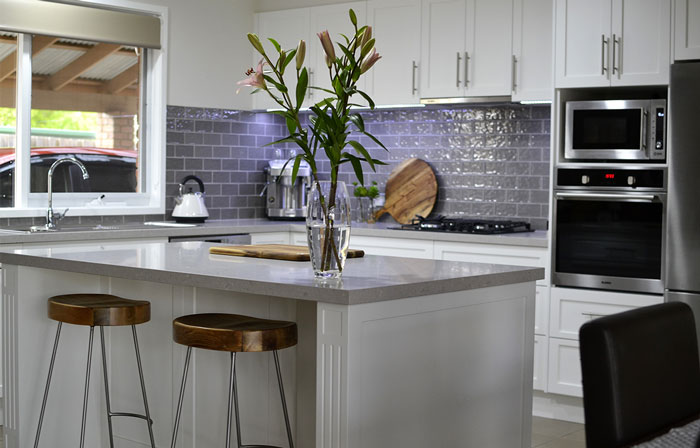 Kitchens
Grandview Kitchens is the place to go for amazing kitchen ranges for your kitchen makeover. We design, build and install your kitchen – all in one place. With Grandview, know that your project is being built by people who understand exactly what your dream is. Whether you're a champion baker, into microwave meals or just love to have the whole family over for dinner, we'll help you build the perfect kitchen
Bathrooms
Do you deserve to be a little spoilt?
Want to bask in a little luxury? Why not consider a custom bathroom makeover from Grandview Kitchens, WE can design manufacture and install your new vanities and give your old bathroom a new lease of life. Relax and get that dream bathroom you've always wanted.
Walk-In Wardrobes
Searching for space in your wardrobe?
Need more shelving or hanging space. Call Grandview Kitchens and we can design a custom made walk in robe to suit all your individual requirements.
If you don't have room or have room but a badly designed wardrobe, We have the ideas and expertise to solve all your storage problems.
New kitchens and more
Grandview Kitchens are the new kitchen experts – and more. We provide design, build and installation services not only for new kitchens, but for bathrooms, laundries, wardrobes and custom cabinetry as well.
Experts in new kitchens
At Grandview Kitchens, your kitchen is in safe hands. We have been designing and building kitchens since 1975. . Our Australian-owned company is dedicated to producing the highest quality new kitchens.
Grandview Kitchens works with you towards your new kitchen. We:
Design your new kitchen according to what you need and your budget;
Build your new kitchen in our own Australian workshop;
Install it in your home, including organising trades people.
Imagine sitting down in your perfect new kitchen with the whole family. Grandview makes it possible!
Kitchen additions
Don't need a whole new kitchen? Maybe you've recently moved into a new property with a new kitchen or have recently renovated your kitchen. Either way, if you want small changes, new appliances or other services, Grandview can make expert additions to your existing kitchen.
Bathrooms
If you already have a great kitchen and want your bathroom to look just as good, we can help. Our custom design, build and installation service is perfect for bathrooms too.
Laundries
We can also reinvent your laundry. Usually one of the smallest rooms in the house. We can help you utilize the space more efficiently and can offer some great storage soloutions.
Wardrobes
Is your wardrobe cramping your clothes style? Is the storage space poorly organized? Do you need some shelves, rails or just a bit of customising? Grandview can custom design and install a wardrobe for you. You'll be amazed at the difference a wardrobe with custom-designed storage space can make.
Got a special project you think we might be able to help with? Challenge our talented designers, build team and installers to build your dream project.
No matter if it's a new kitchen, bathroom, laundry cabinets or something a little more customised.. , All of our products are custom-designed and built at our workshop to your specifications and with quality materials- so you get the result you want, without the hassle.
We can help your renovation dreams come to life. Contact us at Grandview Kitchens to organise an obligation free consultation.
Custom-made Kitchens
Grandview Kitchens is Melbourne's first choice for custom-made cabinetry and fully Project Managed Installation.
Make your dream home a reality!
Kitchens Melbourne | Kitchen Designers Melbourne| Kitchen Manufacturers Melbourne | Kitchen Showroom Melbourne | Kitchen Renovations Melbourne | Custom Made Kitchens Melbourne