Traditional kitchens for modern lifestyles
Home is where the hearth is. Want your new, custom-designed kitchen to be welcoming, warm, and comfortable? Grandview Kitchens can help you build a traditional kitchen with modern functionality.
Kitchens have long been the centre of our homes, and traditional kitchen design pays homage to their important place in our lives. Traditional kitchen styles with Grandview Kitchens take the warm, welcoming, timeless aspects of traditional kitchen design and fit them to your modern lifestyle.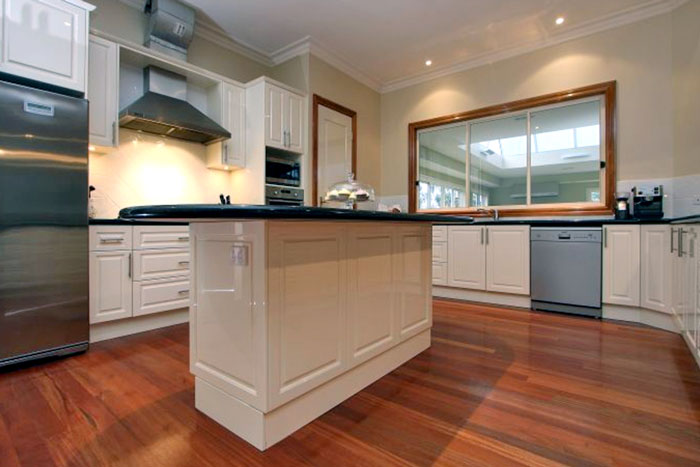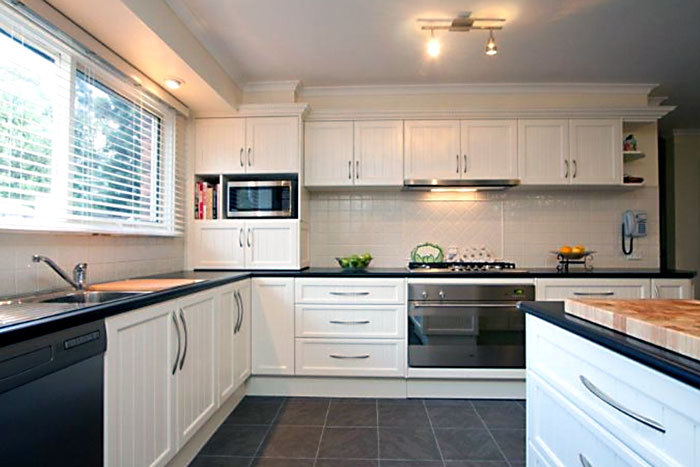 Timeless tradition – kitchens for life
Traditional kitchen design is warm, welcoming and comfortable. A traditional-style kitchen from Grandview Kitchens is charming and cosy. Imagine seating your family around a big farmhouse-style table for a holiday meal, or pulling a big cake out of your new, but classically styled, oven.
A traditional kitchen style doesn't have to mean traditional features. Grandview Kitchens can design, build and install a traditional kitchen for you with a winning combination of traditional styling and modern comforts. Enjoy a cosy, comfortable, inviting kitchen, with all the 'mod cons'.
Traditional doesn't mean old-fashioned – instead, with Grandview Kitchens, your traditional kitchen can incorporate the best aspects of modern kitchen technology with timeless design. You can combine a traditional kitchen appearance with modern, quality European and Australian appliances.
Looking for a double-oven big enough to cater for the whole family during the festive season? Want the double-door fridge you've never had the space for? Grandview Kitchens' experienced designers can transform your dream into a timeless, traditional kitchen. Plus, you can have the bench space you've always wanted
Learn more about fitting appliances into your traditional kitchen in our Appliances section.
Invest in your kitchen
Traditional kitchens are an investment in your home. They are less likely to 'date' your home, and they never go out of fashion. Instead, your investment can increase the value of your home for years to come – as well as being a joy to live with.
Traditional kitchens, not boring kitchens!
At Grandview Kitchens, choosing a time-tested traditional style for your custom-made kitchen gives you a wealth of colours and appearances to choose from. There's no need for your traditional kitchen to be boring!
Our talented and experienced kitchen designers can help you choose the right look and products to bring your dream kitchen to life.
Warm colours and materials give your traditional kitchen a natural, welcoming feel. Your family and friends will love visiting your kitchen and feeling at home!
Start a new tradition
So many things in life come and go, but a custom-designed, traditional-style kitchen from Grandview Kitchens isn't one of them. Its lasting charm and quality build will delight for years to come.
Want to make your kitchen the heart of your home? Contact us to visit our showroom or organise an obligation-free consultation.
The kitchen looks fantastic and I have been enjoying working with Grandview Kitchens (and I will be back for my next one).
The whole team at Grandview have been amazing from start to finish. It has been a very easy process and we have been informed at every stage.
A huge thankyou to Irene, Darren and everyone at Grandview. I love my Kitchen!
Fantastic service from Grandview kitchens, no hassle from start to finish.. Would recommend ..
Very happy with my kitchen. Great service, great product!
Excellent communication throughout the project. Fantastic tradespeople. From beginning to the completion & handover we did not experience any problems. A very professional company, we would happily recommend Grandview Kitchens to all.
A huge thank you to you all for my kitchen. I love it! You have all been wonderful, professional and friendly. All the trade people have been fantastic and a pleasure to work with, I have already recommended you to two friends planning kitchens!
Custom-made Kitchens
Grandview Kitchens is Melbourne's first choice for custom-made cabinetry and fully Project Managed Installation.
Make your dream home a reality!
Kitchens Melbourne | Kitchen Designers Melbourne| Kitchen Manufacturers Melbourne | Kitchen Showroom Melbourne | Kitchen Renovations Melbourne | Custom Made Kitchens Melbourne